Set Back from the busy Cote d'Azur, amongst hills planted with olive groves and vineyards, La Mude is situated some 15 miles west of Draguignan, the old capital of the Var, and 30 miles north-west of St Tropez.
Facing south with outstanding views over the surrounding countryside, the house and heated pool stand in 2 acres of terraced grounds, planted with olive and fruit trees.
It is exremley quiet and private, whilst being only five minutes drive from Salernes, which has very good shopping facilities and lively markets on Wednesdays and Sundays.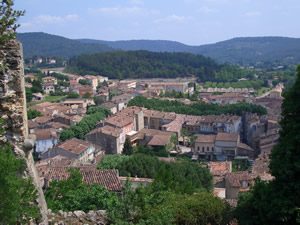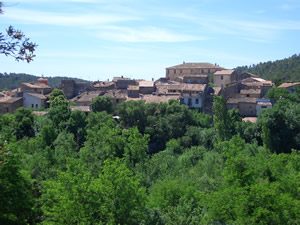 Local attractions include tennis, which is only 5 minutes by car from the house, horse-riding in Salernes and Sillans-la- Cascade, and golf only 10 minutes by car.
There is plenty of opportunity for both walking and cycling, with forest and cross-country tracks running directly from the villa, with little need to use the roads.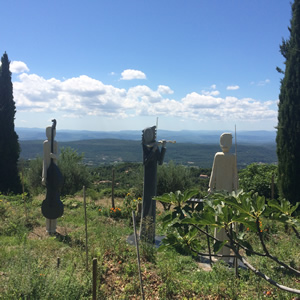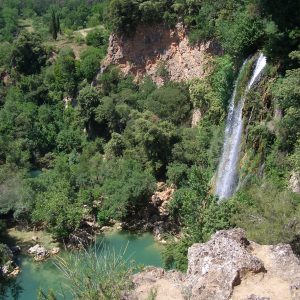 Other activities include wine tasting in local vineyards, a visit to the monastry at Le Thornet, natural caves in Villecroze, the waterfall in Sillans-la Cascade (10 minutes walk from the house), and numerous picturesque Provencal villages well worth visiting.
Photos:-
Top left: Roof tops of Salernes.
Top right: Sillans-la-casacade.
Bottom left: Tourtour.
Bottom right: The waterfall in Sillans-la-casacde.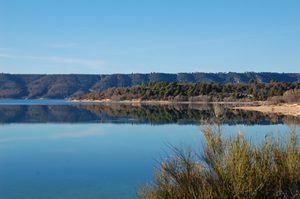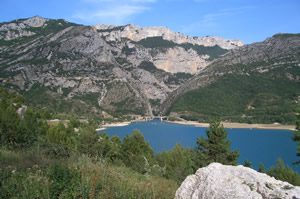 The Lac St Croix, 30 minutes to the north, offers a peaceful haven to the coast, where one can picnic, swim, windsurf and sail.
The magnificent Grand Canyon du Verdon , reputed to be the deepest gorge in Europe, leads into the lake and is well worth a visit for impressive sceney.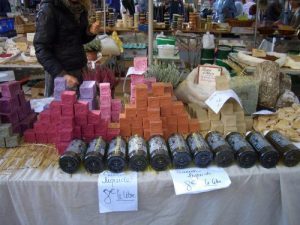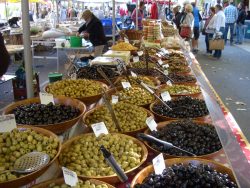 There is an excellent choice of local restaurants, a list of which is available in the villa, together with telephone numbers.
Nice and Marseille airports are both approximately an 1hr 15min by car.
Summary
Salernes lies in the heart of Provence, 15 miles South of the Lac St Croix, 25 miles inland from the bay of St. Tropez and one hour east of Aix-en-Provence. The nearest large town is Draguignan, 15 miles to the east, but the towns of Cannes, Monaco, Nice and Grasse are all easily accessible. Nice and Marseille airports are both approximately 1hour 15 mins by car.
Location: Sillans-la-Cascade in France
Nearest Airport: Nice or Marseille at 60 Miles
Nearest Train: Les Arcs / Draguignan at 12 Miles
Nearest Motorway: Draguignan at 12 Miles
Nearest Beach: St Maxime at 30 Miles
Nearest Bar/pub: Sillans la Cascade at 1 Miles
Nearest Golf: Le Muy at 12 Miles
Nearest Restaurant: Sillans la Cascade at 1 Miles
Car: necessary
Local Links:
http://www.restaurantbruno.com
http://www.hostellerie-abbaye-celle.cote.azur.fr
http://www.bastide-moustiers.fr
http://www.chateau-roubine.com
http://www.mediterranee-france.com/salernes/
http://www.provencebeyond.com/

http://www.meteofrance.com

http://www.tourisme-tourtour.com

ttp://www.officetourisme-salernes.fr
---